Cutting-edge new MicroLED displays, 8K viewing, and customisable displays are just a few reasons why televisions continue to predominate at the world's largest technology shows – such as CES Las Vegas, currently taking place. Just when it seems our television enables us to do all we could dream of – including rewinding or forwarding programmes, recording our favourite shows, and enjoying a plethora of shows via streaming, new technology arises, tempting us to update our television in the new year so as to enjoy a more dynamic viewing experience. Watch out for the top technologies that are already changing the face of home viewing as we know it.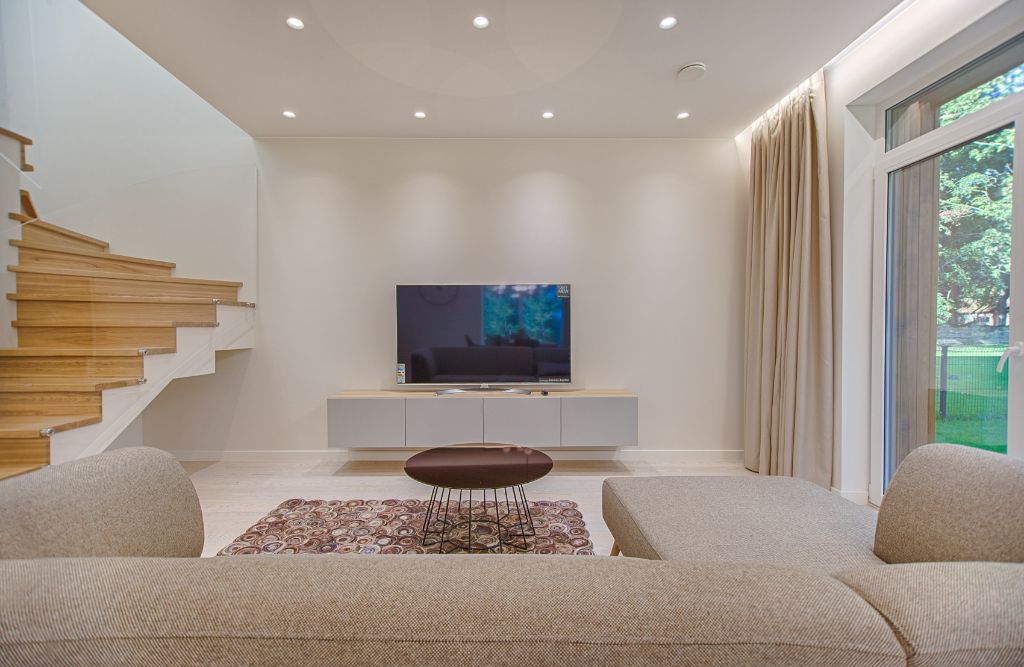 8K Television
Homeowners with a spacious cinema room are already making the most of 8K technology, which boasts 16 times the number of pixels that a Full HD 1080 display does. Of course, 8K is only suitable for screens measuring around 80 inches, and that means that in most (even sizeable) living rooms, a smaller screen with 4K technology is the way to go. A screen measuring 32 inches upward will still provide you with crisp 4K viewing technology that will enable you to sit closer to your screen, without the quality of the images suffering. Of course, if you have a cinema room or a large enough living room to accommodate 8k technology, the latter is the way to go for a larger-than-life experience. Critics initially debated whether or not the human eye could actually different between 4K and 8K viewing. According to The Society of Motion Picture and Television Engineers, we can. In tests conducted with humans, participants noted that 8K viewing was pretty much as close to real life as it gets.
HDR10+ Unites with Dolby Vision
Panasonic is showing that 4K is an excellent choice for those seeking a top quality viewing experience at a smaller scale than 8K. Its GZ2000 OLED TV model supports both HDR10+ and Dolby Vision – when most TVs choose either of the two technologies. HDR10+ boasts dynamic rather than static metadata functionalities. In other words, it receives extra information about how to display high dynamic range content. Thus, images show different levels of brightness, allowing for subtle differences in bright and dark scenes alike. Dolby Vision also allows for brighter, livelier images that vary from scene to scene by following instructions that tell the TV when to increase or reduce contrast or emphasize a particular hue. Each technology works well on its own but when both work together, the result is quite a uniquely beautiful and lifelike experience.
Roll-Up Televisions
Last year, LG revealed its Signature OLED TV R, in which the TV screen lowers down into a base when not in use, thus becoming invisible. The screen doesn't just descend into furniture; it actually curves and rolls up as though it were a piece of paper. At CES, the company unveiled a consumer version, which will be available by the end of this year. The TV will also boast 4K technology, making it a perfect choice for design lovers that don't want to scrimp out on clarity or colour. Techies are already predicting that this will be the ultimate choice for backpackers wishing to take their high-definition TV with them wherever they go. Because it rolls up to a small size, it is uniquely easy to carry around and transport from one home to another. LG's Tim Alessi has stated that durability won't be a problem for this device. It will take up to 30 years until the screen needs to be replaced – even if you frequently roll and unroll it.
Shape-Shifting TVs
Also unveiled at CES 2019 was a new MicroLED television measuring 75 inches that put an end to the fear that MicroLED was simply too difficult to manufacture on a mass scale. The latest MicroLED TVs are modular, meaning that viewers can split, join, or make the screen smaller or larger according to their preference. As noted by the BBC's Chris Fox, the modular nature of this type of television means that you can replace modules if they break, thus reducing expense and enabling you to enjoy your TV for longer. The future scope of MicroLED television is vast. Because each module can simply be 'snapped' onto another, viewers could potentially build large TVs that won't scrimp on detail or clarity. Samsung has already displayed a 219-inch version of their new MicroLED television, which served as a clear demonstration of where this technology is heading.
Music Streaming Services United to Television
Samsung has just announced that this year, its new smart TVS will incorporate iTunes, which means that viewers can watch shows they previously purchased on iTunes. The TVs will also contain a feature called AirPlay 2, which allows viewers to stream content from all Apple devices. Meanwhile, Samsung's own voice assistant will be able to play iTunes content, which makes for great ease of sharing and of course, greater listening enjoyment.
Statistics show that people across the globe are spending less time going out, and that means that more are interested in converting their home into entertainment centres. From MicroLED television to roll-up and even modular screens, it is an exciting time indeed for the television industry, which is burgeoning across the globe. Computers and laptops may have their attractive points, but for a top home viewing experience, TV is still the way to go.