Have You Got a Desktop PC That's not Working?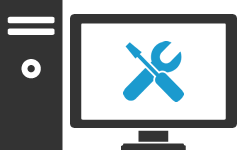 Whether it's only a few months old, or close to retirement age, AJR offer a complete Desktop PC Repairs service and can fix any problems you may have with it.
Our friendly, helpful technicians will be able to access your desktop pc repairs problem, offer a solution, and most importantly quote you a price based around our easy-to-understand fixed-price labour charges. If you decide to go ahead with the repair, we will get your desktop pc repairs completed efficiently, give it a health check (we do this with every system we repair!) and then let you know its ready to be returned to you.
We don't believe in lengthy waiting times when your waiting for your desktop pc repairs or expensive "Queue Jump" services – we treat every repair with the utmost priority and always aim to get your desktop pc repairs problem solved within 24 – 48 hours in most cases. We're proud of our prompt service!
SO WHAT PROBLEMS DO WE SOLVE?
We can solve most problems with your desktop PC – in fact, we can solve so many different problems that we can't possibly list all of them, but have a look through the list below for some of the most common issues we fix daily;
If you have got a different computer problem or repair that you need carrying out but its not on the list, don't panic –  there's no need to go elsewhere – speak to AJR first and we'll be able to tell you how we're able to help.
That Sounds Great! What Now?