About AJR & Me (Andrew)
"IT & Creative Solutions Specialist | AJR is Fuelled by Technology, Driven by Design & Optimised in Providing Solutions"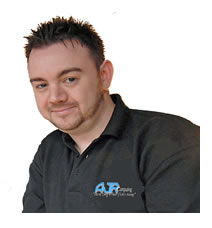 I have over 10+ years experience working in IT. I am a very driven person who is full of enthusiasm with a passion to learn and to help others.
I have worked in many areas of the technology industry including private, public and educational sectors, while running my own business The AJR Solutions Group, providing IT & Creative Solutions. 
I started my IT career working in the educational enterprise environments. I worked for Maltby Academy and then Wickersley School & Sports College as the Lead IT & Network Technician for the comprehensive school and sports collage, and due to my experience in supporting primary schools I also supported local primary schools around the Rotherham, South Yorkshire area under the Wickersley partnership trust.
I was the lead IT contact for Rotherham primary schools and provided IT Support and Project Management this also included scheduled onsite field engineering visits around my main commitments with Wickersley School. 
I was head hunted by a leading IT Solutions & Managed service provider to go work for them as the IT Operations Manager, This involved dealing with a range of different areas of technology and IT platforms but mainly in a server environment role dealing with physical and virtual servers for some very big companies all over the world including Holland & Germany. So you know you are in good hands with AJR.
I provided onsite field engineering and remote support for clients all over the UK, I Was dealing with all types of servers such as virtual and physical Hyper-V servers, VMware, Windows server 2012 R2, SBS – Small Business Server 2008, 2011, SQL and Terminal servers, Exchange email servers, Domain controllers, Active Directory, Group Policy, TCP, IP, DNS, DHCP, Hybrid and cloud solutions, Office 365 Remote monitoring 24/7 and managed security solutions such as Antivirus and Spam Filtering.
I really enjoyed working in this role and with the team of guys I worked with. But I still felt there was something missing and I was burnt out working a full time job and running my own business as my business was growing and demanded more of my time.
I decided that I wanted to follow my dream that has always been to work for myself and be my own boss and run my own business full time the way it should be run as ever since I can remember, I have been driven to do my own thing. The driving force that motivates me more than anything else is freedom.
So I decided to leave my position, it was a tough choice as I really liked the work I was doing but knew deep down my heart wanted something else something I have been working so hard over the years to build up.
I still keep in touch and feel part of the family. I also work on side projects with them when they arise.
I started AJR back in 2009 with the aim to combine Technology (AJR Computing) and Creativity (AJR Designs) under one branded solution and provide quality mobile computer repairs and IT Support solutions along with Web and graphic design solutions to individuals and small business customers in Rotherham, South Yorkshire, UK. With a trust worthy and honest approach, so combined the two along with some other online businesses i run and created the AJR Solutions Group of businesses, I aim to be your IT Guy for life and support you in any way I can because this is my passion and what I love and do every single day.

Over the years my business has grown from strength to strength as most of the work I get comes from repeat custom and word of mouth referrals. As i am mobile this gives me the flexibility to deal with allot of onsite business IT support and residential home call-outs, i do have a fully custom fitted repair workshop where all computer, Laptop, iPad / iPhones are repaired to a very high standard. and a meet and greet office area for IT and Design work consultations and also customers wanting to drop off and collect their devices for repair. 
So if you need help and support reach out to me I'm here to help you. No strings attached, no obligation, reach out & say something, drop me a phone call or email, I keep it simple and jargon free, I won't try to baffle you with complex terms, I will speak to you at a level you will understand.

Thanks for Reading