Do You Need a Laptop Repair Specialist In Rotherham, South Yorkshire?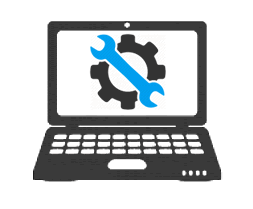 Whether it's only a few months old, or close to retirement age, AJR offer a complete professional Laptop Repair service and can fix any problems you may have with it.
Our friendly, helpful technicians will be able to access your problem, offer a solution, and most importantly quote you a price based around our easy-to-understand fixed-price labour charges. If you decide to go ahead with the repair, we will get your system repaired quickly, give it a healthcheck (we do this with every system we repair!) and then let you know its ready to be returned to you.
We don't believe in lengthy waiting times or expensive "Queue Jump" services – we treat every repair with the utmost priority and always aim to get your problem solved within 24 – 48 hours in most cases. We're proud of our prompt service!
SO WHAT PROBLEMS DO WE SOLVE?
We can solve most problems with your Laptop – in fact, we can solve so many different problems that we can't possibly list all of them, but have a look through the list below for some of the most common issues we fix daily;
 
Broken screen
It's so simple with AJR. Whether your screen has stopped working or you have damaged it by accident. We repair all makes and models and aim to repair promptly to get back on track
 
Virus & Spyware Removal
Viruses can be dangerous!
They can copy your passwords or bank details.
They can cause performance problems, popups and other issues with your computer.
 
Liquid spill damage
Spilt a glass of water over the laptop keyboard? or you may have tripped over your machine. Do not panic!, turn the power source off, flip your computer up side down and remove the battery. Come see AJR asap. We use well-advanced technologies to save both your laptop and wallet.
 
Software problems
Your machine gradually starts to work slowly, keeps freezing or you get panic kernel screen? There are 3 main occasions of it!!! Come along to get your laptop checked out, AJR will resolve all the issues for you.. it is not the end of the world.
 

Overheating problem
Laptop overheating happens to every user as we do not live in vacuums. Dust is everywhere it just fly's over us and gets in to your laptop causing the vent system to block and eventually your machine starts overheating. It is vital to have your vents cleaned and fresh CPU thermal paste applied every so often to stop your laptop from premature failure.
Dead laptop...Will not turn on!
You're giving up, you thought your valuable Laptop is so-called dead!!! This can be so far form the truth. AJR is a laptop repair specialist in Rotherham South Yorkshire, in most cases AJR can bring your computer back to life or if the, saving buying a brand new computer. If it is indeed dead AJR can safely recover your data and files.

Damaged laptop casing
Fell asleep, tripped over the lead? or your child pushed your laptop from off the coffee table? Nothing to worry about as there are all parts available for your laptop whether brand new from our suppliers or used from our laptop breakers to lower the costs down. It is only a phone call away to get your free quote.

Faulty laptop keyboard repair
Keyboards are one of the most durable parts of your laptop, they do not normally break themselves you either help them to break by spilling a drink on the keyboard by accident, or your child rips the keys away!. We can get your missing keys refitted or in most cases its cheaper to get a replacement keyboard.

Broken power socket
There's nothing more annoying when your laptop won't charge, Just as you need to take it away somewhere. If your DC socket or charger has been damaged, Come see AJR! We can test both the socket and your charger, figure out the problem and advise you on the repair.
If you have got a different laptop problem or repair that you need carrying out but its not on the list, don't panic – there's no need to go elsewhere – speak to AJR first and we'll be able to tell you how we're able to help.
That Sounds Great! What Now?