Do You Need Help With Your Next IT Projcet ?
AJR's got the Experience to Make Sure You Succeed, Implementing Cost Effective Solutions
AJR Provide IT Project Management In Rotherham, South Yorkshire 
When hiring an IT project management team, you'll need to be sure they're right for the job. Project management has many important components to consider, including scope, schedule, and budget. While searching for a project team, be sure you're thorough in the interview process. On average, a project manager has at least fifty micro projects and ten or more major projects each year. You should make sure the team you hire has this level of experience or better. A good project team should also be organized and professional. Before hiring a project team, be sure to ask for their past experience and references. Have they handled a project like yours in the past? Was it successful?
Taking on an IT project by yourself can be overwhelming. Our technology consultants are here to help! Our IT project managers can assist with your next project from planning to completion. Bring on our team as a resource, or we can manage the entire project. We're flexible and want to work with you.
We have helped businesses with everything from new server deployments to network overhauls. Our goal for our clients and in project management is to be an asset to you. When you partner with AJR, you're leveraging our experience and saving money. Give us a call and let our project management team assist with your next business IT project.
What is a  Business IT Project ?
A business IT project is a scope of work that has a clear start and finish. The direction of the project should be in a statement of work. The SOW will include information about the project's objective, scope, budgeting, and scheduling. This statement of work is the document that defines the project. Once your IT project team has created the SOW, both the client and project team will review it together.
Examples of an IT project are an office move or new server setup. By hiring our project team, we'll plan and manage your next IT project through from beginning to end. This will ensure successful project delivery, on time and under budget. Plus, we can assist with any project you have in mind. No technology project is too big or too small. We specialize in cloud computing for businesses, creating efficiency and saving them money.
why Choose AJR For Your IT Project Management
AJR is different from any other project management team in the devotion we have to our clients. For anyone that has done business with us, this is no surprise. We have a high client retention rate because of our drive to go above and beyond for small businesses.
We have experience working with businesses and schools to deliver successful IT projects. Our project managers have a well-rounded skill set needed for business and school IT project management. We have helped many businesses in Rotherham, South Yorkshire with their IT installations and support. If your business or school is considering an IT project, AJR would like the opportunity to meet with you.
Learn more about our IT project management for business and school environements today. Find out how you can save time and energy by hiring AJR for your next project. Take advantage of our FREE IT / Network Assesement & Audit

Structured IT Project Management
AJR follow a structured approach to IT Project Management to ensure success – it's that attention to detail that makes all the difference.
Whether or not you want AJR to undertake formal management processes on your project, we use our own internal systems to manage and verify all progress, risks, ongoing costs, quality of work, adherence to timescales, and as a reference back to your goals.
AJR's IT Project Management lifecycle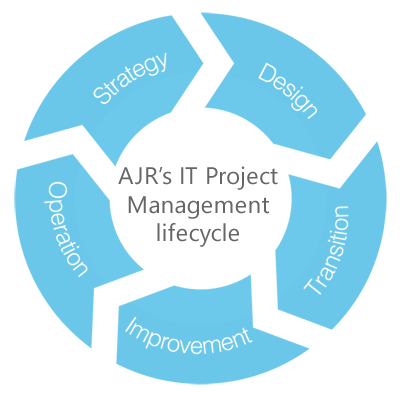 Strategy – understanding your needs, discussion, audits, research, advice
Design – review options, recommendation, business case, solution design, proposals
Transition – approval, purchasing, project management, installation, training, review
Operation – support services, monitoring, remote management, patching and updates
Improvement – change management, client reviews, reconsider objectives, new technologies
Sign Up For Our Free IT Needs Assessment
A Get to Know Us Session. And How AJR Can Help Your Business IT Support