Keep your business IT running smoothly and avoid downtime
AJR take appropriate action before they damage or affect your IT systems or your business.
AJR Provide Managed IT Services In Rotherham, South Yorkshire 
Save time and energy with complete coverage of your IT Systemns. Managers and business owners have enough on their plates already. Why should you have to worry about IT issues as well? With managed IT services, AJR become your IT extension of your business as your IT department. We join your team to help your business overcome IT challenges.
Most business owners consider technology to be the backbone of their business. Businesses rely on the efficiency of their systems and network. Managed IT services are a proactive approach to eliminating IT distractions that cause downtime. Discover how managed IT services can help you grow, manage, and protect your business.
Manage your business, not your IT systems. AJR have it covered.
We proactively monitor and manage your IT systems based on your requirements keeping you informed and providing alerts based upon your business SLA agreements. Have peace of mind knowing that our cost-effective solution will proactively fix potential problems before they impact your business.
The data we gather from these problems and resolutions will also allow us to provide forward planning and advice to manage your IT network effectively to improve your network 24/7.
Our fixed, predictable monthly fee will give you greater certainty in cost for supporting your IT systems. The ability to connect remotely to your IT systems to take corrective action avoids a more expensive onsite call out to your location, and is key to our managed IT services. Have peace of mind knowing exactly how much you pay each month for your IT support no matter what or how many problems you may have.
If you know your IT provides you with issues and doesn't always work the way you like but not sure where the next step is, speak to AJR who can give you impartial advice about what Managed IT service solution is right for your business needs. We offer a FREE IT / Network Assessments & Audit you can take advantage of this it's like a get to know us session and learn how AJR can help your business or school with Managed IT Services.
Key Points To Having Managed IT Services
24/7 Remote monitoring and alerting.
Ongoing preventative maintenance.
Proactive IT support with rapid response.
Unlimited remote technical support (AJR Service Desk IT).
Onsite IT support included (AJR Service Desk IT).
Predictable and fixed monthly pricing.
Dedicated IT department.
Security, backup, and cloud solutions.
Managed Cloud Anti- Virus (AJR Cloud Tech)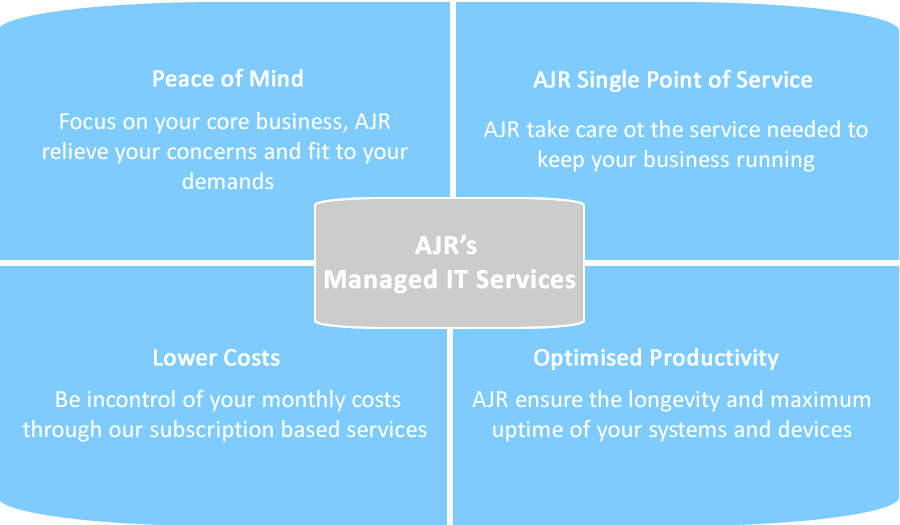 Sign Up For Our Free IT Needs Assessment
A Get to Know Us Session. And How AJR Can Help Your Business IT Support