Windows 10 won't be free for everyone: Do you qualify? Microsoft's free upgrade offer for Windows 10 comes with an asterisk and some fine print. Most modern PCs qualify, but beware if you build or buy custom PCs or you want to run Windows 10 in a virtual machine. I've got the details.
One question I've been asked more often than any other lately is this: "If I'm running the Windows 10 Preview, do I get a free license when the Preview is over?"
The short answer is no.
The longer answer is "No, but it probably doesn't matter."
Windows licensing is confusing, and Microsoft's muddled messaging about how it's going to deliver Windows 10 upgrades has not helped at all. The Windows 10 license agreements aren't available for inspection yet, so it's possible there will be some surprises in there.
And, of course, Microsoft routinely declines to answer any questions about licensing, because the whole topic is a legal hot potato.
The upgrade offer as it exists today literally includes an asterisk and a bunch of fine print. Some details aren't announced yet.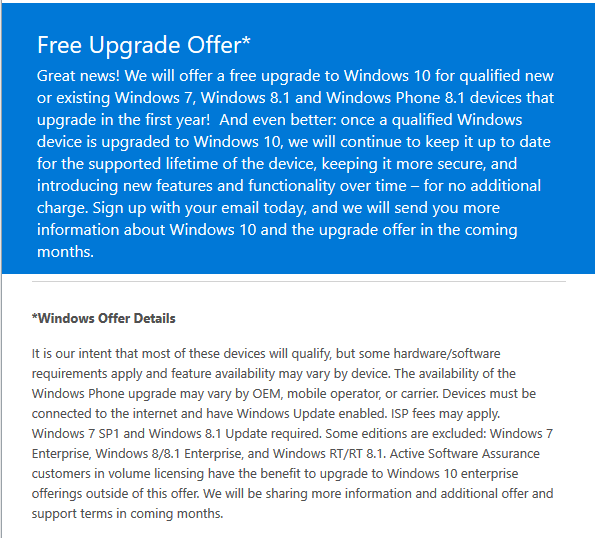 The good news is that I've been studying Windows licensing issues for more than a decade, and I think I have a pretty solid handle on what will happen when Windows 10 is released. The standard disclaimers apply, of course: I am not a lawyer, and this post doesn't constitute legal advice. But the information contained in this post is accurate to the best of my knowledge.
If you're currently running a Windows enterprise edition, this post doesn't apply to you. Enterprise editions are available only to volume license customers, and you'll need to talk to whoever manages the Microsoft licensing agreement in your organization to get licensing answers.
With those details out of the way, the single most important thing to understand is this:
A Windows license is attached to a device, not assigned to a person.
So, if you're running the Windows 10 preview, you need to ask a different question: "Is this device properly licensed for Windows 10?"
Whether you are currently running the Windows 10 preview is irrelevant. Instead, you can get to the correct answer by answering a few simple questions.
Is this a physical device or a virtual machine?
With extremely rare exceptions, virtual machines don't include a Windows license. Skip ahead to the next section for details on how to acquire a qualifying license.
If this is a physical device, such as a desktop PC, laptop, or tablet, it needs to have a proper underlying license to be eligible for the free upgrade. Most PCs sold through the commercial and retail channel come with a home or business edition of Windows already installed. All Macs come with OS X.
Which operating system was preinstalled on your PC?
Most brand-name PCs are sold with an operating system, typically the most recent version of Windows available when the PC was built or, in the case of a Mac, the latest version of OS X. If you built the PC yourself or purchased it from a local shop, you might have bought a so-called naked PC, one with no operating system.
Microsoft says you can get a Windows 10 upgrade for free if you have a proper license for Windows 7 Service Pack 1 or Windows 8.1 and you claim the free upgrade within one year of the launch of Windows 10.
For Windows devices, you can look for a sticker on the side or bottom of the device (for a portable PC it's sometimes hidden in a battery compartment or attached to the power supply). You can also check the paperwork or the manufacturer's specs for the specific model you're looking at.
Eligible for a free upgrade
Windows 7 Service Pack 1 is required before you can upgrade using Windows Update. But all PCs sold with Windows 7, even pre-SP1, qualify for the upgrade.
Windows 8 You must first upgrade to Windows 8.1 (free in the Windows Store) and then install the free Windows 8.1 Update from Windows Update. After that's complete, you're eligible for the free Windows 10 upgrade.
Windows 8.1 You can upgrade to Windows 10 from Windows Update.
Not eligible for a free upgrade
No operating system If you built the PC or bought it without a qualifying copy of Windows, you are not automatically eligible for a free upgrade, even if you are currently running the Windows 10 preview. This is also true if you are running the Windows 10 preview in a VM. You have to install a "qualifying license" first. (See the following section for a definition of what that is.)
Windows XP or Windows Vista Your (probably very old) PC is not automatically eligible for a free Windows 10 upgrade. However, it may qualify if you upgraded to a later Windows version. For example, if you bought a $40 Windows 8 upgrade from Microsoft in the months after Windows 8 was first released and used that license and product key on this machine, you qualify for a free upgrade.
Windows RT Your device cannot be upgraded to Windows 10. Microsoft says some features from Windows 10 will be available in an update to Windows RT sometime in the future.
OS X (any version) Your Mac needs a qualifying license to run Windows. This is true whether you plan to use Boot Camp or run Windows in a virtual machine.
If your pre-installed OS doesn't qualify for a free Windows 10 upgrade, what options do you have?
You need what Microsoft calls a "qualifying license" if you're installing Windows 10 in a virtual machine, on a Mac using Boot Camp, or on a PC you built or bought that did not include Windows as part of the final product.
You might already have a qualifying edition if you purchased a retail copy of Windows 7, Windows 8, or Windows 8.1. If you have already assigned that license to your PC or virtual machine, it qualifies for the free upgrade to Windows 10. You can transfer that license to any physical or virtual PC and it will be eligible for a Windows 10 upgrade.
You can also use an OEM copy of Windows. Windows 8 is the only OEM version that includes Personal Use Rights (PUR). For some bizarre reason, Microsoft removed PUR from the Windows 8.1 OEM license. Technically, you can't use an OEM copy of Windows 7 or Windows 8.1 on a PC or virtual machine you create. In practice, this use is so common that it's impossible to imagine Microsoft trying to enforce those technical license rights.
The best strategy might be to wait a bit longer. Windows boss Terry Myerson says Microsoft is planning some "very attractive offers" for OEMs to offer customers with so-called Non-Genuine Windows PCs. It's not certain whether those offers will be limited to China and other markets that are saturated with pirated copies of Windows.
Note that none of this has anything to do with how you install Windows 10. If your device is qualified for a Windows 10 upgrade because it originally came with Windows 7 preinstalled, you can claim the free upgrade before the first year is up. At that point, you have a valid license for Windows 10 on that device and you can install, repair, refresh, reset, or reinstall as necessary. More details on that after Microsoft finalizes its launch plans.