In this article AJR would like to let everyone know – Microsoft Windows 8 Support Ended On Jan-12th-2016
Windows 8 has passed Microsoft's "extended support" milestone on the 12th of January 2016, which has marked continued use of the windows 8 OS a potential security risk.
According to Microsoft's policy, they no longer issues the hot fixes or the security updates for Windows 8 after the 12th January 2016 end date. The windows 8 software is now considered to be "unsupported" by Microsoft. Exceptions to this policy might be businesses or organizations that purchased Microsoft's "custom support" but that option is likely to be an expensive option, and with contracts lasting just 12 months.
Most business and organizations likely moved off Windows 8 quite a while ago, if they ever stopped using Windows 7. Windows 8's release on 26th October 2012 introduced a mobile friendly type of operating system, with "desktop" and "Metro" interfaces, but that sudden change did not inspire widespread adoption by businesses and organisations. Today, Windows 8 has just a 2.76% use rate of all the operating systems available on the market, according to Net Applications' data.
The Early Death of Windows 8 
Microsoft typically provides a total of 10 years support for its Windows OS releases, which is divided into a 5 year "mainstream support" phase and a 5 year "extended support" phase. Although it was not the best operating system and was never going to catch on, most people thought that Windows 8 may have had alittle more life in it, and that it had not even completed its first mainstream support phase.
But Microsoft has changed its terms, leading to an early Windows 8 death. Microsoft's lifecycle support page provides an explanation, but most people will likely be confused by it.
Visitors to the lifecycle support page for Windows 8 will see the following table, which shows extended support end date of 10th January 2023 for Window 8.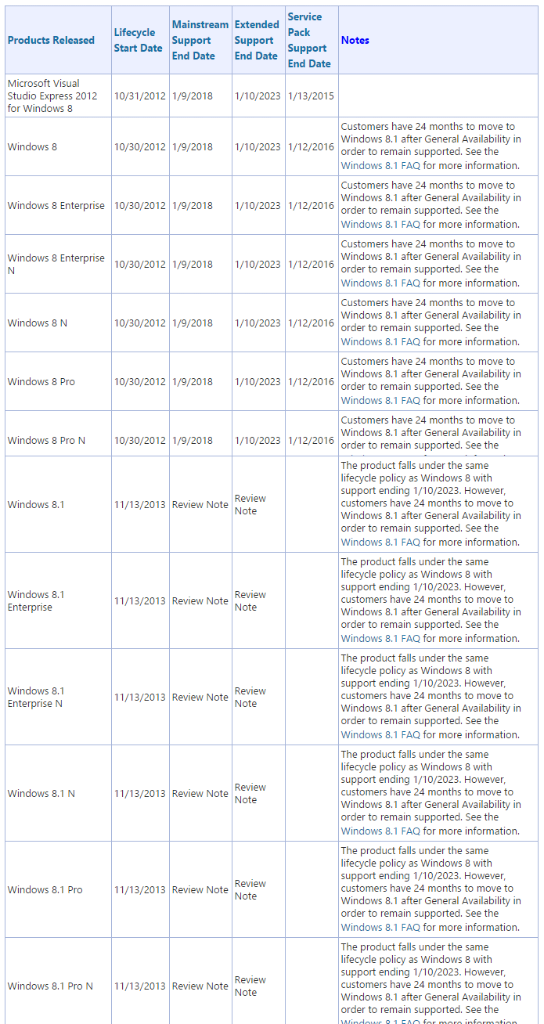 Without knowing all of the relevant facts; apparently, the policy seems to be suggesting that the Windows 8 users do not have to move for a quite awhile. However, they have to read the note on the right where Microsoft explains that Windows 8 users have to move to Windows 8.1 two years after the general availability date of Windows 8.1, which happened on 13th November 2013.
Based on this November date, readers of the lifecycle support page may have thought that Windows 8 would have finished the extended support on 13th November 2015, but that turns out not correct. They have to click on the FAQ link for Windows 8.1 to see Microsoft's statement that the end of the extended support for Windows 8 happens on 12th January 2016.
"With the General Availability of Windows 8.1, customers on Windows 8 have 2 years, until January 12th 2016, to upgrade and move to Windows 8.1 in order to remain supported by microsoft," the FAQ states.
Nomenclature Shift
The strange and sudden death of Windows 8 has an explanation of some sort. At the time, Microsoft was quietly devising a more agile release scenario for Windows in which it would dispense with its traditional "service pack" releases. Service packs were bundles of software fixes and update patches. Businesses and Organizations had 24 months to upgrade to a service pack and still have supported software, which allowed them to continue to receive the Microsoft security updates. Windows 8.1 turned out essentially to be a service pack of Windows 8 like an upgrade add-on, but Microsoft did not use that phrase. It described Windows 8.1 as "similar to how customers deploy service packs," while instituting a 24-month service pack-like policy.
As noted above, though, this extended support end date for Windows 8 did not exactly track. It should have been 13th November 2015, not 12th January 2016. Did Microsoft arbitrarily extend the date? In response to queries, no answers from Microsoft have been given.
To add to the confusion, Microsoft issued Windows 8.1 Update on Oct. 17, 2013. Did that release constitute a new service pack that might reset Windows 8's end-of-life date? Apparently not, based on Windows 8's end of extended support date, although a Forbes article seemed to suggest that was a possibility. Moreover, Microsoft's lifecycle support page describes Windows 8 Update as "a cumulative update for Windows 8.1," so it may not have fallen under Microsoft's traditional service pack definition nomenclature. (Confusingly, service packs also are known as cumulative updates.) Back then, Microsoft was in the process of abandoning the meaning of its software update terminology even as it continued to use it.
After the release of Windows 8.1 Update, press rumors had suggested that a Windows 8.1 Update 2 would arrive on 12th August 2014. It is unclear if Update 2 ever did arrive or even existed at all. If it did arrive, it is not described in Microsoft's product lifecycle support pages.
Today, Microsoft updates Windows 10 at least on a monthly basis, every four months and every eight months. It claims to issue no more service packs for its Windows 10 operating system, and all Windows 10 updates are now considered to be cumulative updates. They are big 3GB update deliveries.
Windows 10 was released in July 2015 and it has a mainstream support end date of 13th October 2020, with an end of extended support date of 14th October 2025, per Microsoft's lifecycle fact sheet. For now, organizations can bank on that support time frame. That is, unless some future "Windows 10.1" update release should appear in the interim.