In this article AJR discusses Tips to Keep Your Computer Secure
With the more complex security landscape and tougher challenges that every PC users have to face. According to a statistic report, the reported cybercrime has been rocketed from 15,184 in 2014 to 23,996 in 2016, and this rate is expected to rise in 2019 with the popularity of the Internet across the globe.
So, how can we protect ourselves against cyber criminals while enjoying the convenience and entertainment the web brings to us? Below are several security tips:
Always have your important files backed up
Though ransomware is not something new, cyber attackers can still use this file-hijacking trick to gain large ransom and cause great damages every year. This year, before any new ransomware attack is revealed, backup important files to ensure your file safety.
You can use either an extra hard drive to store your data or online file storage services like Google Drive, Dropbox or Apple's iCloud. Also, you can use Microsoft OneDrive, This tool saves your documents when a change is made and syncs to the cloud and any other device you have one drive installed on, so even if  your hard drive goes bad, or your computer suffers from damages caused by ransomware or a system crash your data is securely in the cloud and not stored locally on your machine.
Beware of "too good to be true offers" in your mailbox or on a web page
Phishing is another favorite of attackers to steal personal information or even get control of a PC. A mail saying you have won a 1 million lottery jackpot is probably outdated, but a website banner saying "Get free iPhone X. Limited time offer!" may still be a good bait to lure victims. Remember, if an offer is too good to be true, then it usually is NOT true!
In addition to paying attention to these fake messages,  AJR Cloud Tech Protection plugin to your browser. This smart widget is functioning with a cloud database behind. When you enter a website on the blacklist, a notification will pop up to stop you from going onto a malicious website.
Get it for your favorite browser:
Equip your PC with a powerful antivirus software
Unfortunately, since cyber attacks are a quick way for bad actors to "monetize", even if you are just browsing the web and do nothing, you may still be hit. To stay secure from all these virus, malware, and threats, it's critical for you to have a well-functioning antivirus / Anti-Malware program guarding your computer.
AJR Cloud Tech Anti-Virus  & Anti-Malware offers all the features required for your computer security and performance, including several award-winning security engines, anti-phishing, anti-ransomware, surf protection, real-time file guard, behaviour blocker, CleanUp and SpeedUp.
And that's not all it has a high performance dual-engine scanner to make it much more effective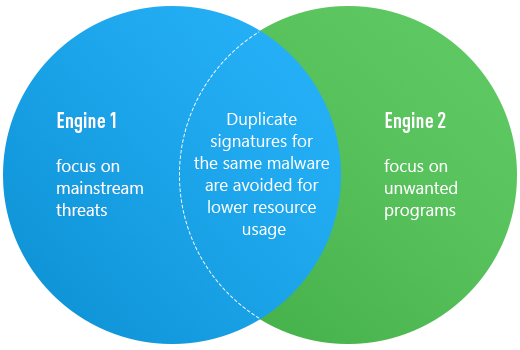 If you are seeking for advanced protection, you can find all this in our AJR Cloud Tech Package that comes with a range of tools that work 24-7 /365 to keep your computer systems running securely and at peak performance.
This year, undoubtedly, will have more security events coming. We are prepared to continue our work to safeguard your private information and identity.