In this Article AJR will overview a AJR Cloud Tech New Feature Added
Not only can we keep your apps and software up to date we have now added the feature to keep your windows operating system up to date.
Windows operating systems security patches are extremely critical for keeping our customers machines including both work stations and servers protected and up to date.
AJR Cloud Techs now allows us to provide full control over windows OS updates from the cloud further increasing your managed security service from us making sure your systems are fully covered.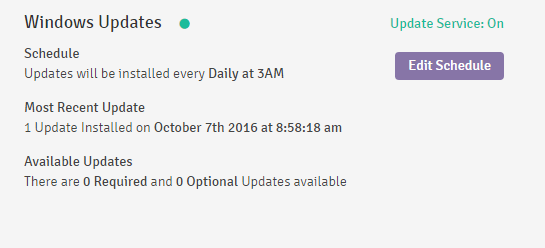 Windows Patch Management  will allows AJR to remotely in the cloud to ensure our customers machines are always fully up to date. In this early version, AJR now have the ability to enable the Windows Update Service and see if it has been disabled. W can also set update schedules to any day and time.
Further down the line, we will be adding control over which updates get installed on the machines so AJR can make sure that only the required and most important patches are applied to high priority workstations and servers.
Windows Patch Management Feature is Included in the Monitoring Package
This new feature is included in the Monitoring package so whichever package your on there is no extra charge.
Support Requests Update – (Updates to our back end portal)
This does not affect the customer
This update is more on the back end for our support specialists giving them more control over service requests through AJR Cloud Tech app this is accessible from your task bar (the little blus AJR Cloud Tech icon) that you click and able to submit a request.
Features added on our end
help track what has been seen
now added "read or unread" state in addition to open and closed state, To quickly change the state of the request, new "Mark as" button.
"Reply" button this opens an email to the customer to make responses much faster.
For more information about AJR Cloud Tech click the image below. and Happy computing!