From improving inventory management to strengthening B2B (Business to Business) communication, big data has the potential to expand and transform a business, large or small. In this article we go over 7 Misconceptions Small Business Owner Have About Big Data.
Research from 2018 reports that most businesses are gathering data, but half of them don't have a clear idea of how to use it. Most of these businesses fail to invest in a data platform to extract valuable insights from the information they collect. Statista findings project that revenue from big data analytics globally between 2015 and 2022 will be over 274 billion U.S. dollars.
Big data revenue prediction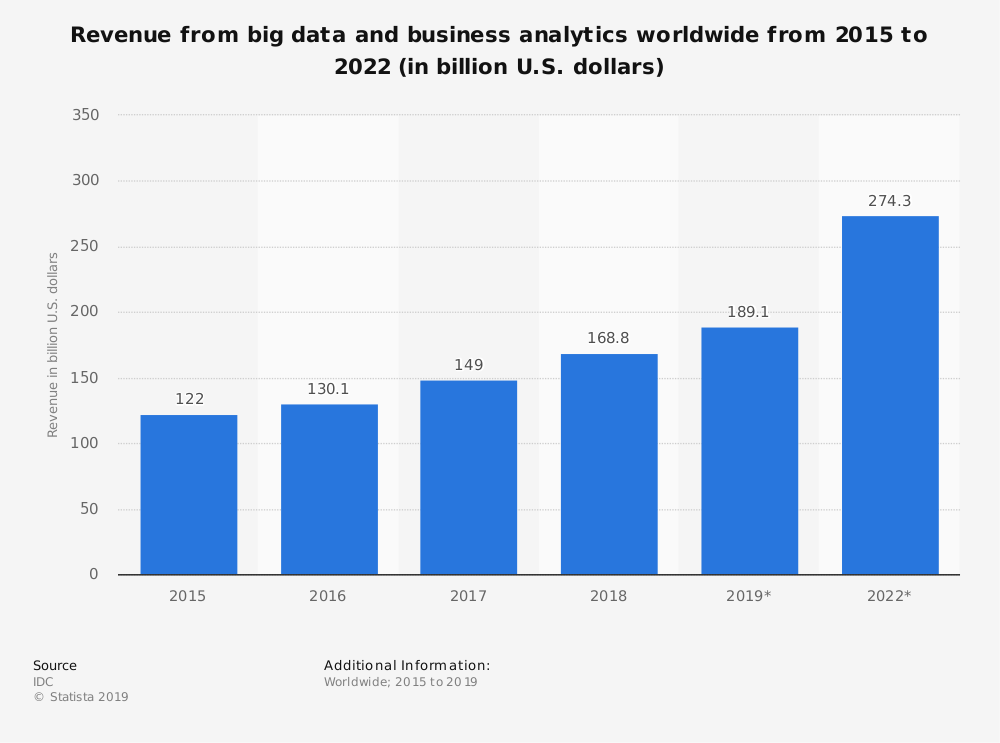 While many businesses have misconceptions about how data can be valuable to their business, overlooking the power of big data can translate to missed opportunities to grow a business and its revenue.
Here are the most common big data misconceptions small businesses have:
Human intervention outweighs anything automated
Entrepreneurs come with passion, excitement, and cognitive abilities that are important for nurturing their business. Undoubtedly, the human touch is important for success; however, it can potentially inhibit growth.
Many people believe that they can outperform automation in their decision-making process. However, in today's technology-driven market, this no longer holds true.
Experts say that effective critical business decisions should not be based on assumptions, but on facts and data.  There is a tendency to dismiss the value data brings to businesses. The truth is that when human reasoning and intuition is combined with real data, it creates a powerful advantage, especially for small businesses.
Big data is only for big businesses
Remember the days when only Bankers could consider the costs of a mobile phone? Now a missed call is missed business for even one man bands. Many small businesses think that big data is only for big and well-established businesses. In reality, big data is as relevant to SMEs (small and medium-sized enterprises) as too big businesses.
Even the smallest company generates large amounts of data from their sales, website traffic, and other resources. This data allows SMEs to adapt what they offer to provide customised and personalised services tailored to their customers. Strategic use of this data helps businesses improve their marketing campaigns, customer satisfaction, and eventually boost their revenue.
Big data is expensive
Undoubtedly, it can be expensive to purchase big data applications; however, it's possible for SMEs to easily collect some useful data at no cost. For instance, Google's web-traffic monitoring tool Google Analytics provides extra data and reveals valuable information, such as the origin of your website traffic, how to engage visitors on your website, and much more.
Even if SMEs do need to make some investments in order to collect and analyse the data from their businesses, that investment will go a long way towards gathering actionable information that can expand their business and enhance customer trust.
Businesses start receiving the benefits of big data immediately
Big data can boost your revenue – but it probably won't happen overnight.
Using technologies based on data, small businesses can improve their decision-making process and performance, which should allow them to increase their revenue and customer retention. However, this process can take some time.
Data can only provide information, not solutions
Artificial intelligence (AI) helps small businesses save time and money.
Artificial intelligence enables small businesses to run a lean operation. AI solutions range from retail inventory and sales management to automatic customer communication software. Salesforce's Einstein software recently launched using IBM's Watson technology is an example of AI technology.
AI tools automate manual processes and offer operational insights while keeping costs low. All this eventually leads to higher revenue.
Big data always provides accurate answers
Small business owners who choose to collect and use data can also fall into the trap of assuming that the information they collect always offers accurate results to different business issues.
Data analytic tools measure and leverage multiple data sources for important predictive analytics. However, according to business experts, predictive analytics are not always accurate. The accuracy of predictive analytics relies on accurate data but also on human judgment to resolve the ambiguity. As such, data is not intended to replace the data management professionals in an organisation but to support them.
Niche businesses don't need big data.
Data can help businesses make necessary changes to enhance a business very early on. On the Fiverr marketplace, data analysis services grew 243 percent over the last year. Data analysis services available on platforms like Fiverr.com are affordable and easy to access. Data services allow niche businesses to become even better able to meet the specific needs of their customer base, as well as reducing wasted time and resources on areas that are underperforming.
Businesses who do not use data collection and analysis tools are missing out on a huge opportunity to grow themselves and better meet the needs of their customer base. While human intuition is still a valuable tool for a small business owner, supporting that intuition with solid facts about how different areas are performing is the best way to drive results. Whether a business chooses to invest in professional grade software or utilises the many low- or no-cost resources available, big data can help provide direction, clarity – and perhaps most importantly, revenue.
We hope this article about 7 Misconceptions Small Business Owner Have About Big Data has been helpful.
---
Author Bio
This article was contributed by Ralf Llanasas who is an IT and Mobile Technology writer for What Phone Australia.